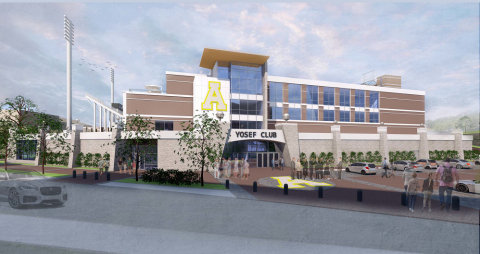 Start Date:
Demolition and Site Prep Began February 2019
End Date:
Phased Opening in time for 2020 Football Season (August 2020)

Identified as the "mixed-used athletics facility" project in the Master Plan 2025 (link to p. 96), or sometimes referred to as "the end zone project," this initiative will transform the north end zone of Kidd Brewer Stadium into a facility providing approximately 88,000 square feet of space designed to accommodate various athletics and academic uses.
The $50 million facility will replace the 45-year-old Owens Field House, which was approximately 34,500 square feet. It will include athletic training, hydrotherapy and locker rooms, as well as conference and continuing education training space, potential medical office space, dining facilities, a team store and ticketing office, approximately 1,000 premium seats, and offices for coaches and athletics staff.
DPR Construction is the Construction Manager at Risk and was awarded the pre-construction services contract.
Parking lots that could be affected during or after construction include: Stadium Lot, Eggers/Bowie Lot, Justice Lot, Champions Lot. The most up to date information about parking for students and visitors may be found here.