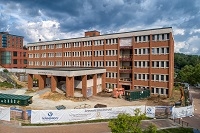 Start Date:
Design work began in September 2018.
End Date:
Classrooms to Open in January 2020
This project will completely renovate and modernize the 50-year-old Sanford Hall. The 73,913 GSF facility currently supports approximately 4,600 students per day (including all STEM students). The renewal project will gut and replace the building's electrical, mechanical and electrical systems, windows, roofing, fire alarm system, elevator system(s), and IT infrastructure. The project will require an Advanced Planning phase prior to total project authorization by the Board of Governors.