Valborg Orchestra Pit Replacement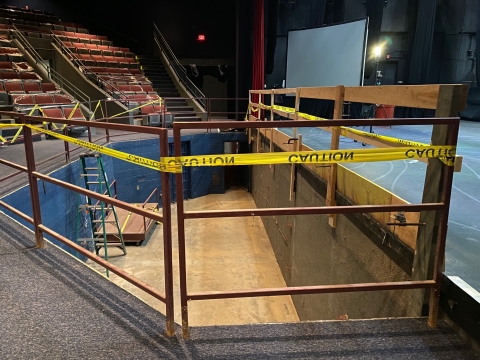 Valborg Theater's orchestra pit replacement will include a new Safepit+ Orchestra Pit cover/floor as manufactured by Productions Unlimited. This project will also address life safety and HVAC issues. The project includes upgrades to the pit lighting, heating, air conditioning, ventilation, fire alarm, sprinkler system, exit and emergency lighting, etc. The lower pit area is prone to foundation water intrusion and will receive some waterproofing along that east side foundation wall.
The following information is provided by Safepit+
"Safepit+ is an orchestra pit safety system and is specifically designed to be the safest option for when the pit is open and an orchestra is below. Safepit+ is composed of laser cut formed metal frames, an acoustically transparent metal mesh, and a solid performance surface of your choice. The system is the metal mesh panels and how the safety of the performers is retained. After removing the top layer of the performance surface, the metal mesh panels remain below, allowing for the system to stay in place during a performance while also providing safety for the performers both above and in the orchestra pit. When the orchestra pit is not being utilized, a solid cover is to be attached to the mesh panels to transform the area back into a performer safe stage."
S.U.D. Associates is providing engineering consultation for the M.E.P. and sprinkler and fire alarm design.